" Villa Kmeller " – a place where every traveler can stop, relax and get unforgettable experience. We want to create conditions under which every guest will feel like at home.
We have a large fireplace room, where you can enjoy the serenity during long evenings.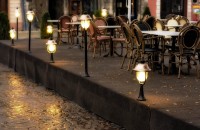 Actually, from the "Villa Kmeller" you can start an incredible journey around the Lviv – "City with a smell of coffee and chocolate", "city among rain ',' Heart of the Galician earth", "Little Paris", " Ukrainian London ", "Cultural Capital of Ukraine", "Lion City". The old part of the city – is the heart the city, which still sets the rhythm of our history. The famous Rynok Square never stays empty- there are always a lot of tourists, loving couples and people who goes to work.
If you are for first time in Lviv, we can help you to make your vacation exciting and eventful.
We welcome you as our guests!
Львів-Брюховичі, вул. Соснова, 34
тел.: +38 (032)234 62 42
тел.моб.: +38(093)7061277
E-mail: info@kmeller.com,
booking@kmeller.com
Skype: kmeller.lviv
Координати GPS: 49.89536 , 23.95498
Реєстрація заїзду: 14.00 – 22.00
Реєстрація виїзду: 07.00 – 12.00